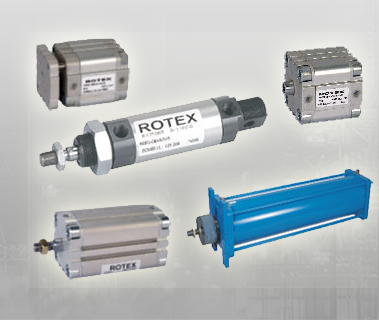 Pneumatic Cylinder
Product Description
Steel body,with adjustable angular & linear positions
High glow LED, suitable for outdoor application
lp65 construction
universally for AC/ DC supply. DC connection is polarity sensitive
The position of this piston of the ROTEX cylinder can be detected by installing a Reed switch.The switch is non contact Reed type design and is in Normally Open position.The switch closes when it approaches the magnetic field,a permanent magnet fitted on the piston rod.
According to ISO 15552 & VDMA 24562
Cylinder tube from extruded profile Aluminium Micro honed for extremely low fricition.
Cylinder barrel treated for special adonizing to reduce fricition.
Cushioning adjustable at both ends,high energy absorption due to special profile
Lubrication not necessary(maintain once started oil mist lubrication)
Compressed air dried to a pressure dew point 3 C- 5 C admissible.
Operating medium: Compressed air, filteres to a minimum 50 um
Operating pressure range 1-10 bar
Operating temperature range -20 C to +70 C
Life 20000 km
Minimum pressure move to 0.1 bar
Speed 3m/sec maximum
permanent magnet is standred.
Contact Us
No. 16, Bhaktinagar, Station Plot, Rajkot, Gujarat, 360002, India
Phone :+918037303573