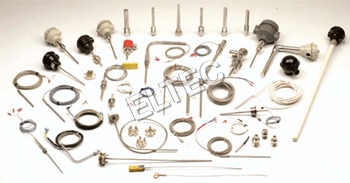 Insulated Thermocouple
Product Description
THERMOCOUPLES are designed to suit various applications. Thermocouple assemblies are generally used to measure temperature up to 1800 °C.
TYPES OF THERMOCOUPLE
Bayonet Thermocouple Assemblies of various types up to 600 °C
Sheathed Thermocouple in various sizes for temperature applications up to 1200 °C.
High Temperature Ceramic Sheathed Thermocouple for applications up to 1800 °C.
Mineral Insulated Thermocouple assemblies for sponge iron & other industrial applications.

Industries Served

Power
Steel & Sponge Iron
Metals & Mining
Cement
Fertilizers
Chemicals & Petrochemicals
Plastics
Glass
Textiles
Pharmaceuticals And Many More
TECHNICAL SPECIFICATIONS

Element

THERMOCOUPLE:

J (Fe / Const) 0 - 700 °C

T (Copper / Const) 0 - 400 °C

E (Chromel / Const) 0 - 800 °C

K (Chromel Alumel) 0 - 1100 °C

R (Pt / Pt - Rh 13%) 0 - 1500 °C

S (Pt / Pt - Rh 10%) 0 - 1500 °C

B (Pt - Rh 6%/ Pt - Rh 30%) 0 - 1700 °C

G,C,D (Tungsten / Rhenium) 0 - 2400 °C


Sheath Material

SS 304 / SS 310 / SS 316 / Inconel / HRS 446 / Ceramic KER 710 & 610
Sheath O.D.
3mm to 35 mm or more

Junction
Grounded / Ungrounded / Open

Insulation
Mineral / Ceramic

Element
Simplex / Duplex / Triplex

Termination
HEAD – Flame proof or Weather Proof Cast Aluminum /SS /C.I.

Seal Pot with Male / Female Connectors
SS base plate with flying leads for Temp. Transmitters

Mounting
¼ ", 3/8 ", ½ ", ¾ " BSP Thread / Adjustable or Fixed Flange

Termination
Flame Proof or Weather Proof Head with Single, Double entry from Cast Aluminum / Cast Iron / SS / Plastic
Seal Pot with flying leads

Seal Pot with Male / Female Connectors (QRT)

Ceramic Terminal Block with SS Base Plate

SS Base Plate with flying leads for Temperature Transmitter

Contact Us
No. 16, Bhaktinagar, Station Plot, Rajkot, Gujarat, 360002, India
Phone :+918037303573